Meet the Doctor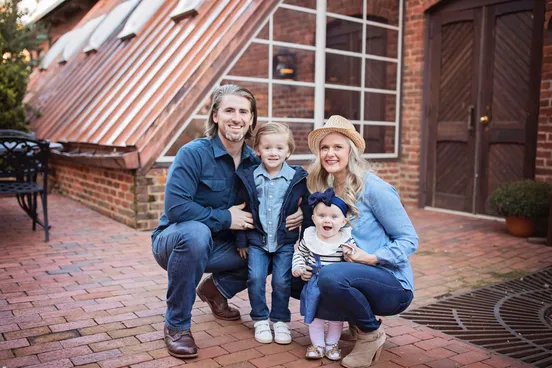 Meet Dr. Lee Stafford
Dr. Lee Stafford is a local native of Greensboro, NC. His family has deep roots and connections to the local and surrounding communities of Greensboro, Jamestown, High Point and Winston-Salem. Growing up he attended Wesleyan Christian Academy in High Point, NC. After graduating from Wesleyan Christian Academy, he pursued his dream of playing collegiate soccer and earning a Bachelor of Science in Exercise Science degree from the University of North Carolina at Charlotte. While at UNC-Charlotte he married his high school sweetheart, Christine Stafford in June of 2009. After graduating from UNC-Charlotte in 2012, he continued his education at the University of North Carolina at Greensboro, with post-graduate work in organic chemistry, biochemistry and genetics. Dr. Stafford received his professional degree, Doctor of Chiropractic, from Life University in Marietta, GA, June 2018. He graduated with professional honors as a Cum Laude and Presidential Scholar.

Dr. Stafford was inspired to be a chiropractor at a young age. His parents chose to take him to a Chiropractor at the age of five years old, after falling off a horse and landing on his head. He complained of neck pain, left shoulder pain and headaches for several weeks following the incident. His parents took him to the pediatrician, who diagnosed with a cervical sprain/strain injuries. He still complained of cervical pain, reduced neck motion and headaches, so his parents decided to take him to a family friend and local chiropractor, Dr. Gary McKeel. Dr. McKeel preformed an exam and took cervical x-rays. He found a misaligned/rotated cervical spine vertebra, which led him to perform a cervical spine adjustment. Dr. Stafford states that he remembers, "the sound that my neck made while performing the adjustment and the temporary discomfort that I felt. I was terrified as a child and never wanted to return. I thought something was broken." Yet, after a single adjustment he was back to his healthy complaint free hyperactive self; playing, climbing trees, performing and competing in Martial Arts. As he grew up into his later years, he became ultra-competitive in soccer. He realized that he was able to physically perform at a higher level when he was getting adjusted regularly versus getting adjusted on an as need basis. He also realized the significance of proper hydration, physical fitness and nutrition, pertaining to helping him meet the physical demands of playing soccer at the collegiate level.

Dr. Stafford has been happily married to his wife, Christine Stafford, since June of 2009. Together they have two healthy and energetic children, Tucker and Sydney Jean Stafford. As a family, they enjoy movie nights, being outside, visits to the beach, hiking, exploring new areas, and living a healthy balanced lifestyle. Dr. Stafford ensures that his family has a healthy and well adjust spine!

Dr. Lee Stafford Professional Affiliation:
National Board Certified Chiropractic Physician

North Carolina Board of Chiropractic Examiners

North Carolina Chiropractic Association (NCCA) member
Monday:
9:30 am-1:00 pm
2:30 pm-6:30 pm
Tuesday:
7:30 am-1:00 pm
2:30 pm-4:30 pm
Wednesday:
9:30 am-1:00 pm
2:30 pm-6:30 pm
Thursday:
7:30 am-1:00 pm
2:30 pm-4:30 pm